My Month in Books (#14) - When One Door Closes, Another One Opens
Or, you know, when one year closes, another opens. Somehow it's 2019, which is simultaneously a statement of fact, a fundamental truth about our world, and (basically) the same equally banal thing I thought a year ago when it became 2018. But it's also a good reminder that time keeps passing. Before we know it, it'll be February then May then 2020.
I had a big 2018; some things were wonderful, others devastating, and I survived some gargantuan life transitions that put it all into perspective. It really made me think about my priorities, what I really want for my life, and - most importantly - how the only way that I'll get where I want to go is to move forward. Small moves. Big ones. But to keep making moves.
To that end, this blog will undergo some changes in the near future, but I'll talk about that more later because, after all, you're here to find out how my December reading played out. (Head below the break for more!)
Highlights from December: Two glorious weeks of vacation from work; spending Christmas with my husband, parents, brother, and sister-in-law in my hometown; having a gingerbread house decorating party with my husband's siblings and all the cousins (a much-needed new family tradition); making some investments in my health and well-being (and having it feel good).
Not highlight: I hesitate to bring up the never-ending pile of laundry (especially since I didn't have a busy work schedule as a reasonable excuse for not doing it), but yeah.
But let's talk about some books, shall we?
I read 3 whole books, though one squeaked in just under the wire. (Which doesn't actually matter, Isabella!)
First, I read One Day in December, which was the month's selection from the Reese Witherspoon / Hello Sunshine book club. It's a love story that starts with a chance almost-meeting and then slow burns for 10 years - and I'm nothing if not a sucker for stories that follow the same characters over long periods of time. It was a sweet story and an easy read - the perfect companion for a work trip to Atlanta and rural Alabama.
Next, I read Pride and Prejudice and Mistletoe, which is right up my alley: Jane Austen-ish, holiday-related, and a twist on the original story (in this case, gender-swapped characters). But, alas, I didn't love it. It was a pretty quick read, but I found a lot of things to be less-than-appealing to me. Some of the plotting seemed rushed. I don't know, I just...wanted more from it.
Lastly, I finally procured and read Am I There Yet?: The Loo-de-loop, Zigzagging Journey to Adulthood. I've been following the artist/author, Mari Andrew, on Instagram for years and always appreciate her insightful illustrations about life. While I'm probably a bit older than the target audience for this (it's largely about being in your 20s), I found it so relatable. That, coupled with the fact that I suspect Mari and I lived quite close to one another for a couple of years in DC, I found this a winning collection of illustrations and essays. Highly recommended.
Other books I started and will (likely) continue: China Rich Girlfriend (sequel to Crazy Rich Asians, which I read and loved in September) and Future Perfect: A Skeptic's Search for an Honest Mystic (an ebook I got for free). And let's not forget about Love in the Time of Cholera.
And because I teased it above, let me tell you about some changes I'm making with my blog this year - soon! - and what it means for you. I've decided, after a lot of hemming and hawing and extreme procrastination, to go big or go home. So in the next couple of weeks, I'm going to migrate this blog over to my new website. I'll have my own url (no more wordpress.com!) and lots of fun stuff and it'll look way more "professional"...and, mostly importantly, it'll give me the bandwidth to finally start doing something that makes me want to squeal indefinitely: use GIFs freely and with abandon.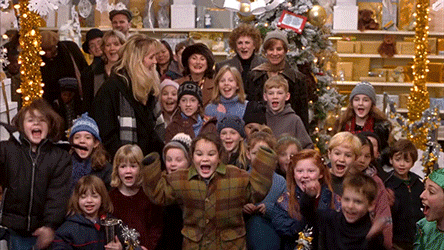 Ahem.
Fear not, I'll let you know when this transition is happening. I will also post links here whenever I add a new post there for...awhile, definitely. I'd love for you to make the move over with me - I promise it'll be worth it. I've got lots of idea for new posts that break the rut I've gotten into here. (Don't worry - I'll still post quotes - I'll never not post quotes!)
In the meantime, tell me, friends: Do you have any reading (or other) resolutions for 2019? Care to share below?